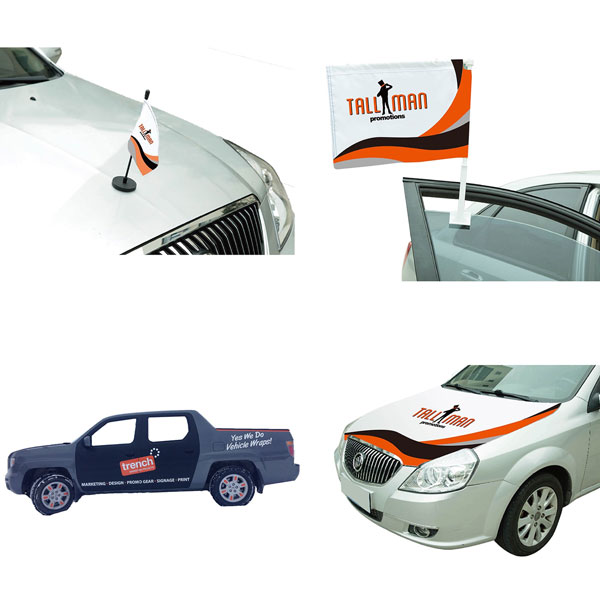 Vehicle Advertising
If you want 24/7 mobile marketing that people can see as you make the rounds through the community, vehicle advertising is for you.
Vehicle advertising lets you display your company logo and contact information in a unique, highly visible format. It is an easy way to get your business known in your area. Mobile advertising is great for any business, no matter the size.
We offer a large range of vehicle advertising, including small or larger projects. From car flags to hood covers and small vinyl decals to full vehicle wraps. TALLMAN.PROMO has the perfect fit for you.
On/Off removal
If you are going on a long drive or don't want your vehicle advertising on your car, it is easy to remove the advertising. With an easy setup, it allows for an easier takedown. Company rebranding? Quickly remove your old advertising and simply add your new one. We can also help with the artwork for a rebrand. Any vinyl advertising is a little more time consuming to apply and can not be reused.
All Weather
Much like your vehicle, you want your vehicle advertising to withstand harsh winds, rain and snow. With our durable and quality materials we guarantee that your design will last even in the most extreme weather conditions. If you have any problems, give us a call.  We are more than happy to help you and make sure that your issue gets resolved.
Temporary Vehicle Graphics
Permanent Vehicle Graphics
Temporary Vehicle Flags
Other Vehicle Advertising